---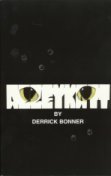 Alley Katt
By Derrick Bonner

New York: Books N' Beats Publishing, 1999.
495 pp. $20.00.

ISBN # 0-7392-0370-3

Buy it now

At the age of 30, Bryann Bonner has achieved everything he has ever wanted out of life. He is married to his high school sweetheart, and together they have a beautiful four-year old daughter and are expecting another baby. To make up for a misspent youth he became a social worker and reluctantly got involved in a situation that would change his life forever. While fighting against the drugs and gangs plaguing his community he became the target for the very same forces he sought to eradicate. When a horrible tragedy ripped his family apart he became the Ghetto Avenger 'Alley Katt', exacting justice on those who wronged them.
This is much more than your basic revenge story. It is a sizzling mix of romance, humor, and fantasy, with fast paced storytelling, hip urban flavor, topical subject matter and lyrical sexuality as well.
About the Author -- Derrick Bonner is a die-hard Brooklynite born in Bed Stuy 'Do or Die!' and raised in the Linden House projects of East New York. After reading the gritty urban novels Dopefiend by Donald Goines and Pimp by Iceberg Slim, he knew he wanted to become a storyteller too and enrolled in a writing program at NYU. Upon completion he wrote his novel Alley Katt and is now hard work on his second, Havoc & Mayhem. Derrick currently lives in Da' Boogie Down Bronx.
Links:

Books N' Beats

Alley Katt