---

The Autobiography of Malcolm X
by Malcolm X as told to Alex Haley


In his autobiography, Malcolm not only dismantles many of the pillars of American racism through humor, wit and irony, but he offers up his story as a testament to the depths of degradation that a soul can sink to by believing in the myths of America. One of the reasons that his story is so powerful is because it resonates with anyone who has ever been involved in the criminal justice system or has ever spent anytime on the streets of America's urban centers. It resonates with everyone, for that matter because it is one of the greatest stories of how a life was turned around in American letters. For most African-Americans (I know for myself), The Autobiography of Malcolm X is one of the most life changing stories that they will ever read. I know that I will never forget the first time that I read it, and the way it changed my life.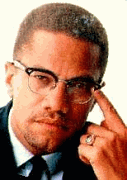 Malcolm X was the quintessential symbol of black manhood; a world leader who was a head of state and was received by heads of state; a historian; a great teacher; a man of god; and a militant leader who never wavered in his committment to fighting racism wherever he found it. But perhaps Malcolm's greatest legacy is his role as one of America's harshest and most insightful critics. As the fiery spokesperson for the Nation of Islam and later as the founder of the O.A.A.U. (Organization of African American Unity), Malcolm X described in eloquent terms, the plight of African-Americans at the hands of white racism.

A critique that was often made against Malcolm X, and one that is still leveled today despite his renunciation of racial hatred after his Hajj to Mecca, is that his political ideology of black nationalism was not compatible with the larger civil rights movement. It is apparent from the writings in his autobiography and in speeches that Malcolm X openly criticized prominent civil rights leaders, calling them "those Uncles Tom Negro leaders" and "house Negroes". Although Malcolm recanted those statements and pushed for unity in the last years of his life, he is still remembered for those scathing comments.
Malcolm's ideology, however radical, was one of the few strategies that spoke to some of the economic "bread and butter" issues that the Civil Rights movement did not address. His message would be adopted by the black power movement that came after his death and he would be remembered as a martyr, if not for the narrow goals of civil rights, than for black struggle in the face of economic and spiritual oppression.
Furthermore, Malcolm epitomized the notion that "black is beautiful." Today, it is taken for granted that black people take pride in being black. However, many of the people that Malcolm was able to reach in his lifetime really were brainwashed—they truly believed the lie that black people had no past, no history and no accomplishments to speak of. Malcolm instilled black pride in his people, not only through his message, but through his love for himself, his family, and black people everywhere.
Although history has been kinder to Malcolm X than he was treated by blacks and whites in his own day, people still seem to forget that Malcolm was first and foremost a man of God. Perhaps Martin Luther King Jr. will always be remembered more for being a Christian minister who preached love and non-violence than Malcolm will be for being a Muslim minister who preached love and self-defense. Perhaps Ossie Davis captured it best in his beautiful eulogy: "And we will know him then for what he was and is—a Prince—our own shining black prince!"

Click here to read an essay on James Baldwin.

2001 © Blackbookshelf.com. All Rights Reserved